ROCKWOOL IMPACTS
Rockwool threatens our Air, Schools, Water, Agriculture, Tourism, and Development.
Is rock wool "toxic"?
Rockwool/Roxul, Inc. insists that its air emissions are "safe" because its processes, and predicted operational releases, fall within the EPA's permissible limits for such emissions. Now it attempts to claim those emissions are not toxic. They are using chemicals and extreme heat to melt rock and turn it into a cotton candy like product.  Using only the EPA's regulatory data, the rock wool manufacturing process is – by regulatory definition:
toxic to humans, animals, and plants
The EPA regulates a variety of chemicals under the Toxic Substances Control Act, 15 USC §1601.  It also must comply with a number of laws requiring classification and disclosure of its processes. 40 CFR Part 372. Within that law there is a section entitled the Toxic Chemical Release Reporting Community Right To Know.  Part D requires the reporting of specific chemicals that the EPA considers toxic, to which the statute applies for each TRI-listed chemical it manufactures, processes or otherwise uses in quantities above the reporting threshold. §372.65
These chemicals are tracked using a specific designated Chemical Abstract Service Register number (CAS).  Included among those chemicals are Ammonia (CAS No.7664-41-7), Formaldehyde (CAS No. 50-00-0), Methanol (CAS No.67-56-1), and Phenol (CAS No.108-95-2).  Companies using toxic chemicals are required to file a Toxic Release Inventory (TRI) report on a regular basis. Although the Rockwool facility in Jefferson County is not even built yet, its "sister" facility in Byhalia, Mississippi is in operation.  A review of its publicly available TRI reports from the Mississippi facility, shows that it must report and has reported the use of each of the above listed toxic chemicals in its operation and manufacture process for rockwool.
In other words, rock wool is produced via a toxic chemical process, i.e., ToxicRockwool.
Air Quality Concerns for Jefferson County: TRI Data Review Summary Emma Huvos – Citizen Researcher Link to Summary Document Jefferson County, WV – EPA Resources Byhalia, MS – EPA Resources (where Rockwool opened their only other US plant in 2014) Note from E. Huvos: When I presented this data directly to Rockwool's leadership, they tried to […]
Proximity to School and Care Facilities Rockwool (or Roxul USA, Inc) is a Denmark based manufacturer of home and industrial insulation produced from slag and basalt. Ground has been broken for a 463,000 square foot industrial facility on 130 acres in Jefferson County, WV and is scheduled to begin 24 hour day operations in 2020. […]
Our Groundwater and Water Supplies Below, is a review some information about two important sources of water contamination. The first, surface waters, include rivers, streams, and wetlands. Sources are often grouped together inside the boundary of a 'watershed', the total land area upslope of a point, such as a lake or river, into which all […]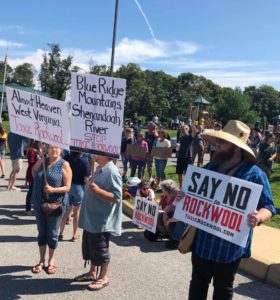 OurAgriculture – Coming Soon
OurTourism – Coming Soon
OurHistory – Coming Soon
CCAR/JCV Community Sourced Website Submit Additions or Edits: jcvwebteam@gmail.com