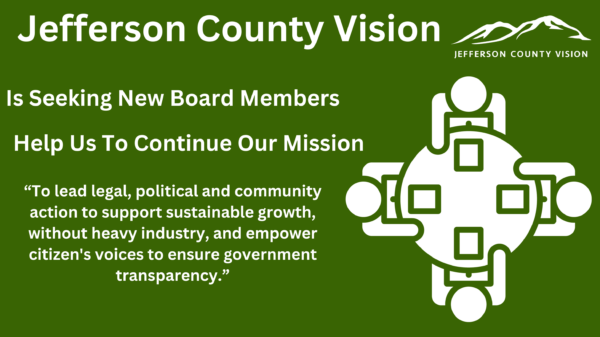 JCV has entered its fifth year of serving the community.  A 501(c)4 nonprofit, our mission is to "lead legal, political and community action to support sustainable growth, without heavy industry, and empower citizen's voices to ensure government transparency."  A history of JCV's efforts be found on this site.
Most of the current board members have served several years, and while being passionate about the mission, are preparing to leave the board.  We are looking for the energy and expertise that new board members will bring.  We seek individuals committed to continuing the fight against heavy industry – and for clean air and water and smart growth in the community. Are you interested?  Have a friend who would be a good fit?  Please consider joining us on the board.   Desirable qualifications and expectations include:
• Has a passion for JCV's mission
• Is committed to working with like-minded organizations and individuals
• Is a resident of Jefferson County or adjacent counties in West Virginia
• Able to dedicate a minimum of one year to serving on the volunteer board
The Board conducts short virtual biweekly meetings focused on JCV's strategy, financial stability and community engagement.
Please use the link found here for additional information. Self-nominations are welcome.
Nominations are due by November 9. Please send to Marie Uehling, Nominating Committee Chair, at mail@jeffersoncountyvision.com