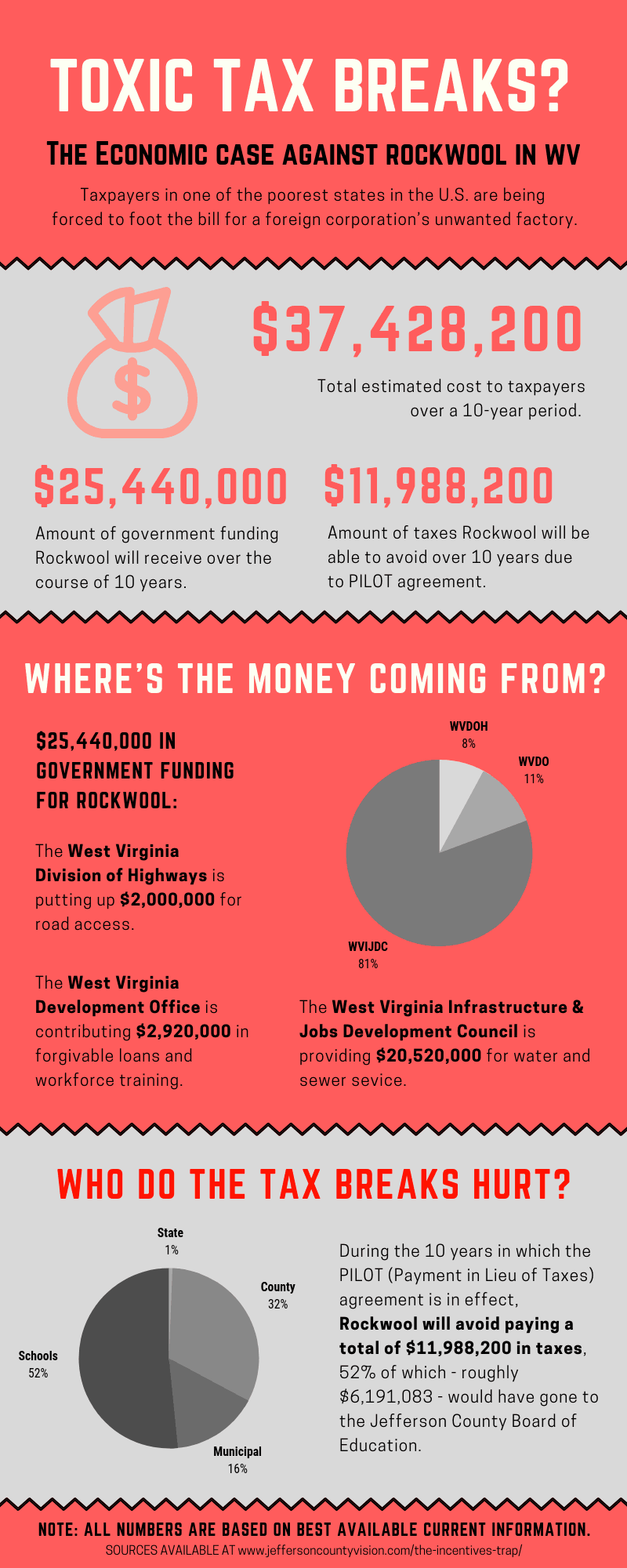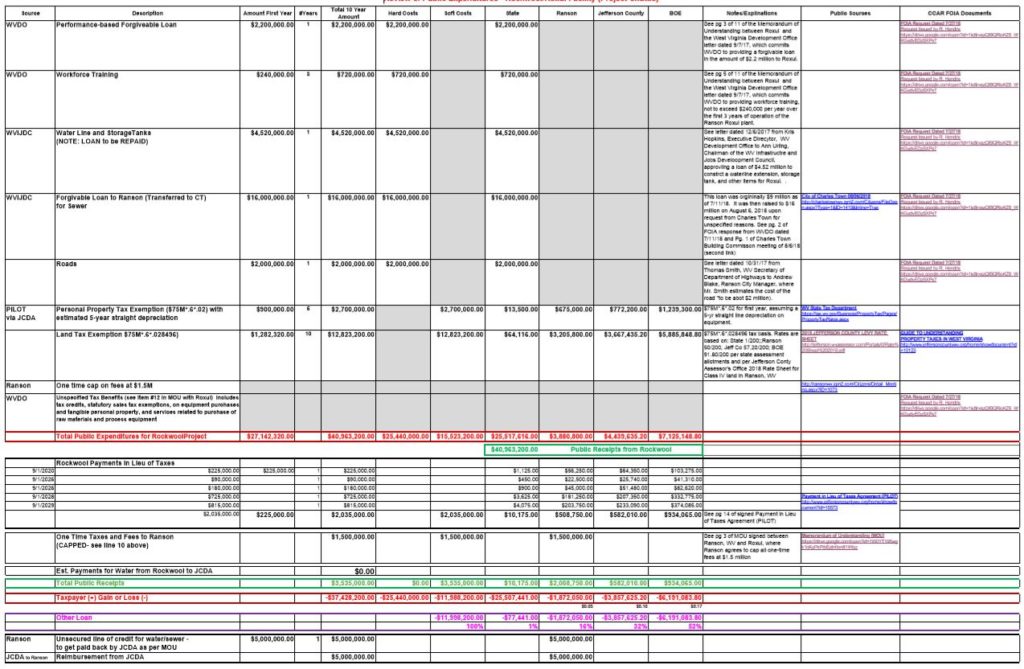 Let's Talk Math with Emma Huvos
Note from Emma: 
Ok, it's been a while since I shared anything about Rockwool, and I was hesitant to even take this on (I'm really not a numbers person, guys!) but I think it's too important not to.
People have been outraged about Rockwool's potential emissions for months now, but the economic impacts are just as concerning and we're only now starting to understand their true scale.
Thanks to a combination of government handouts and generous tax breaks, Rockwool (a foreign corporation) is sitting pretty, while taxpayers in WV stand to lose millions of dollars on this misguided deal.
Today I'm digging in to Jefferson County Vision's "Toxic Tax Breaks" infographic to make sense of where the numbers came from and what they mean for our community. I encourage you to look in to the information yourself and see what conclusions you reach.
Incentives 
Excerpt from the JCDA Incentives Webpage
Companies seeking low tax rates and excellent incentives will have a hard time finding a more business-friendly location than Jefferson County. The state of West Virginia offers a number of attractive incentives to qualifying businesses, including sales tax and property exemptions for certain manufacturing and warehousing operations. The West Virginia Economic Development Authority (WVEDA) can also help with project financing through direct loans and issuance of tax-exempt industrial revenue bonds, and our local tax rates offer significant savings when compared to nearby metropolitan areas.
Here's a look at the extensive number of benefits and incentives you can enjoy when you relocate or expand your business in Jefferson County, West Virginia Read More…
A full list of state and local incentives can be accessed on the West Virginia Department of Commerce Development Office website.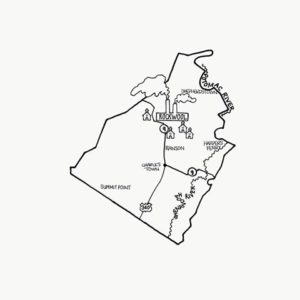 JCC approves tax incentives for Roxul
Excerpt from August 4th, 2017 by Tim Cook
The "payment in lieu of taxes" agreement will allow Roxul Inc. to either completely or partially avoid paying local real estate or personal property taxes from 2018 through 2029.
"There have been so many lawyers looking at this (agreement) that my head is spinning," said John Reisenweber, executive director of Jefferson County Economic Development Authority, who presented the agreement to commissioners. "So it's had a lot of legal review."
Under the terms of the so-called PILOT tax "abatement" agreement that the commissioners approved, Roxul's county and municipal tax relief — which does not include other tax-relief incentives and about $15 million in infrastructure spending by West Virginia Department of Commerce officials — involves 130 acres of land that the company is purchasing for about $75 million at the 400-acre Jefferson Orchards site beside Route 9 in Ranson, Reisenweber said.
The PILOT agreement's personal property tax relief for Roxul involves taxes that would be assessed on about $75 million worth of manufacturing equipment the company will initially purchase to open and operate its 463,000-square-foot plant stating in 2020.
The Ranson City Council approved the same PILOT agreement last month, accepting the terms under which the city will forgo its share of local real estate and property tax payments that Roxul won't not be paying.
Roxul plans to start manufacturing residential and commercial insulation products at the Ranson site starting in 2020 with about 120 to 150 employees. Read More…
CCAR/JCV Community Sourced Website Submit Additions or Edits: jcvwebteam@gmail.com