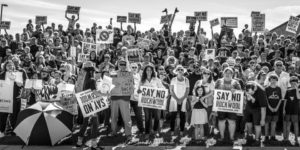 Jefferson County Vision is a not-for-profit organization whose mission is to preserve and protect the quality of life for all Jefferson County residents.
Jefferson County is home to more than 56,000 people, along with untouched landscapes, a thriving tourism industry, and beloved historic treasures found only in the tip of the state's eastern panhandle. We're also home to the confluence of the Potomac and Shenandoah Rivers, with borders touching Maryland and Virginia, providing access to white-water rafting, tubing, fishing, and our own special "river living." We are a special place.

The Rockwool Group (Roxul USA, Inc.) has started the process of building an imposing, 463,000- square-foot factory designed to produce stone-wool insulation in Ranson, WV. Operating 24/7, the massive factory's 21-STORY smokestacks will redefine the county's skyline. The chemicals they emit – numerous toxins, some with unknown "safe" limits — threaten the health of all Jefferson County kids enrolled in the nearby elementary school. In fact, the degraded air quality and the degraded vistas along the Appalachian Trail will threaten our essential tourism base; our homes' resale values will be affected. Roxul/Rockwool spokespersons have stated that it will only offer up to 140 jobs, but will permanently change our landscape and potentially create serious health and environmental hazards.
The proposed factory plans include multiple smokestacks, approximately 21-stories high, releasing thousands of tons of toxic emissions and particulate matter annually, including Formaldehyde, Sulfuric Acid Mist, and Nitrogen Dioxide, among others, making this plant the second-largest emitter of Volatile Organic Compounds in the state of WV.
The air pollutants listed above are known to cause premature birth, cancerous cell generation, and other chronic health issues, as well as damage to the memory, concentration, behavior, and physical dexterity in children.
The factory location is set within 2 miles of 4 public schools, directly exposing 30% of Jefferson County's student population, as well as multiple daycare centers.
The factory will also create noise, light, and viewshed pollution, as well as increased traffic in the area (including staging for 100 tractor trailers per day) for twenty-four hours—continuously—night and day.
Through a grassroots movement (Concerned Citizens Against Rockwool, Ranson) more than 11,000 signatures have been collected in opposition to the building of this plant. Unfortunately, our fight to stop the introduction of heavy industry in our backyards and preserve the health and way of life for our community will not be easy.